Cinecon 49 Classic Film Festival information and reviews

Featuring my reviews and ratings, plus plot summaries for films screened at the Cinecon 49 Classic Film Festival in Hollywood, California which was held over Labor Day weekend from August 29th to September 2nd 2013, hosted at the Loews Hollywood Hotel with film screenings taking place at the Egyptian Theatre on Hollywood Blvd. Five fun days in the dark watching rare films (mainly pre-1950s) all day and evening long - including rarely seen silent films, pre-code and other early sound era classic movies and rarities not often seen on the big screen (or at all!). Also screened were a number of two-reel comedies. The event included celebrity guest stars and a movie memorabilia show too. REVIEWS below.

For more information about the festival visit :
Cinecon Classic Film Festival

Announced films to be screened (note: subject to change)

Cinecon 49 Schedule


---
Reviews and write-up

(Please note the films reviewed on this site contain plot summaries and may contain SPOILERS.)



---
--------------------------
Movie Screenings Thursday August 29, 2013
--------------------------

Puddin' Head (1940) - Plot Summary - Based around a problem over a New York property line, the owners of a big building scheme to purchase the neighboring property - a rundown old farmhouse plopped right in the middle of the city! The owners, Judy Goober (Judy Canova) and her Uncle Lem (Slim Summerville), are a couple of hayseeds from the boondocks who own the "Withering Heights" general store, frequented by hillbillies that look like early versions of the ZZ-Top guys. The New York city slickers arrive at Withering Heights and convince Judy Goober to sell, but ends up she has sold them the store instead of the desired farmhouse - then the clan head for the big city, their car all loaded up with farm critters, looking for all the world like the Beverly Hillbillies. Judy sets right in sweepin' up those dirt floors, chasin' down pigs, and breakin' out in song now and again. The men from the neighboring property continue to try and push Judy into selling but she won't budge. So they come up with methods to try to convince her to sell including inviting her for a weekend at a country estate where they hope to charm her onto their side (fail), then they try to scare them off the place by hiring a man to sneak into the house at night costumed as a ghost skeleton - Judy's literally shakin' like a leaf and ready to leave but skeleton boy cluelessly reveals his scam in the morning (fail). Last - they trick Judy into thinking she's been hired as a radio star, then get her to purchase a bunch of gowns and jewelry on credit, then make her think she is singing over-the-air when, in fact, the microphone is dead, then they cancel her contract leaving her with bills she can't pay -- jeez, these guys are meanies - boo, hiss! But Judy and friends get the best of them when they tap the cable so Judy's vocals are broadcast live on air, and luckily a big sponsor hears her, likes her, and hires her with a big fat contract.
Review - B-movie comedy musical that I, sort of surprisingly, actually thought was pretty entertaining. I found that I really enjoyed the personality and vocals of Judy Canova, with her fluid, comical face and singing style that sort of yodels - I'm a fan. The songs in this were fun to listen to, especially the title song Puddin' Head (that song is still in my head, almost a week later - I keep finding myself singing it). Some of the side characters were sort of annoying but, all in all, a silly romp that's actually pretty fun. Rating - * 7/10 stars *


Down Argentine Way (1940) - Plot Summary - Betty Grable stars as rich girl Glenda Crawford, a young lady who finds romance with Ricardo (Don Ameche), a well-heeled horse owner from the Argentine. His father (Henry Stephenson) is an old curmudgeon who carries a grudge against all Crawfords, based on some wrong done to him years before by a Crawford relation. Glenda tries to buy one of Ricardo's horses but he can't sell to her 'cause she's a Crawford and he can't defy dad. But she has quickly developed a crush on the handsome latin and follows after him to Buenos Aries, accompanied by her spinster auntie Binnie (Charlotte Greenwood). Some fluff with Glenda out on the town nightclubbing with a gigolo and the expected love scenes between her and Ricardo follows. The climax of the film revolves around a prize jumper named Furioso who secretly wants to be a racehorse, and their efforts to get Furioso into a big race without the stubborn old man (yes, he's also got a weird quirk against Furioso racing) finds out.
Review - Fun, colorful musical that popped in sparkling Technicolor on the big screen, really showcasing the talents of Betty Grable and the energetic Carmen Miranda. Miranda appears as herself and dazzles in several musical numbers, complete with her signature colorful turban, midriff top, piles of necklaces and bracelets, and outrageous platform shoes - I love it! She's one of my favorites, this was her first American film and I wish she was in it a bit more. Betty Grable gets to be the clothes horse here too, showing herself off (and she's mighty cute) in one gorgeously stylish 1940 outfit after the other. Add in the loose and limber legs of Charlotte Greenwood and a couple of fantastic specialty tap dancing numbers performed by the Nicholas Brothers and you can see that this film is really all about the music rather than storyline. The title song for this, "Down Argentina Way", is performed several times by different characters throughout the film. I have seen this one fairly recently (well, within the last couple of years) but was happy to see it again on the big screen. Rating - * 8/10 stars *


The Last Man on Earth (1924) - Plot Summary - It's 1924 and young Elmer Smith is in puppy love for a stuck-up little girl named Hattie Brown. Encountering her caught hanging from a low branch by her dress ("Help, I'm hung!"), he rescues her after taking a good look at her underwear (Hattie: "Do something to help me Puddin'Head, don't just gawk!") - his love now knows no bounds (she slaps his face for his trouble). Onto a kiddie party where Elmer drops the cake his mom baked, then gets pushed in the mud by a rival for the attentions of Miss Hattie - boy, will he be in trouble when mom finds out he's dirtied up his Little Lord Fauntleroy suit! Cut to Elmer's future - it's the "flip-flapping" year of 1940 (yes, that's was the title card says) and Elmer (Earle Foxe) is still devoted to this same girl, though she does NOT reciprocate. At a dance where the 1940 women wear short hoop skirts that swirl up to reveal their undergarments as they whirl around the dance floor with their male partners (still looking like 20s fellows), Elmer's pal advises him to use the "caveman" approach to get the woman he wants - make your moves on her and if she doesn't like it, you "make her" like it. Elmer does and it fails as Hattie tells him she wouldn't marry him unless (or was that "even") if he was the last man on earth. Elmer decides to call it quits on women and disappear to parts unknown. And onto the future world of 1950 where a disease called "Masculitis" has wiped out all men over 14 on Earth and the male youths 14 and younger are pampered and protected by the government. Gangs of "skirted thugs" hang out at a bar called "The Chicken Coop", where the bartendress shakes a cocktail via the shaker strapped on her chest. The U.S. has elected a cat lady for President, and the grounds of the White House have been allowed to fall to ruin (what's the notion with this?). Meanwhile, Elmer has been living as a hermit in the woods since 1940 and, because he was isolated from the disease, is now literally "the last man on Earth". The skirt thugs find him, kidnap him, and put him up for auction to the highest bidder! When women find out about Elmer they go crazy, all chasing after him like absolute mad women. At the auction, several rich old bitties bid millions for the privilege of owning Elmer ("Bid high, ladies, bid high" shouts the auctioneer), but he ends up sold for 10 million to the government so a lady scientist can use him to help find the cure for Masculitis. At a Senate meeting, two female "Senatoresses" argue and it's decided they should box each other in the ring, winner to get Elmer as her husband (and he has no say in the matter!). Meanwhile, that Hattie is still around and she's fickle. She suddenly gets the notion it may have been a mistake to give that Elmer the brush-off, finds out that he is the famous "last man on Earth", and rushes to the boxing match to claim her man. One "Elmer, darling" and she wins him. They marry and have twin boys who they name "Romulus and Remus" - both potential future husbands for the world of lonely women!
Review - This sci-fi fantasy silent film was loads of fun, I always enjoy seeing people's visions of the future and it was interesting to see what the storytellers in 1924 thought the world may be like in 1950. Okay, apparently they just didn't think it was possible that flappers, now that they've arrived, would ever disappear from the planet! The women of 1950 looked pretty much like they're trapped in the twenties - hair, makeup, shoes, even dresses for the most part - the main difference in fashion being attire that's slightly outlandish in nature, though still rather "art deco" by design, often with very short skirts or pantaloons that sometimes looked a bit like sexy lingerie. One young lady even holds a "flapper frolic" where all the girls want to get a look at Elmer! Futuristic gadgets, for the most part, are not seen in this film (except for the plug-in "solar powered heat", shown in one brief shot - seems like something they would have today), cars and airplanes still quite twenties in style. As for the concept of women now running the world on their own without the help of men - instead of making these females strong, powerful, women who skillfully take on their roles in this futuristic world and run with it, they are instead shown to be rather silly creatures who are completely desperate to get themselves a man! But, of course, it's all in fun - and, hey, they do need to somehow keep the human population going. I really found this film to be very entertaining - I liked it lots. Wishful thinking - a future DVD of this! By the way, that was two films in one Cinecon day that used the term "puddin'head". Rating - * 9/10 stars *


Silk Hose and High Pressure (1915) - Plot Summary - At a rooming house (or maybe small hotel), new arrivals "The Gaiety Girls" pep up the joint and spark the males lurking about to chase around after them. Billie (Billie Ritchie) and Pop go to the theater to see the Gaiety Girl's perform and a small girl in the audience gets the odd notion into her wee head that sittin' on stranger Billie's lap is preferable to sitting with mom. She keeps bugging him and Billie goes to sit in a box stage right where he flirts from his seat with the show's headliner, a big buxom blonde. This blonde also attracts the attention of Pop, now sitting stage left. The two men throw bricks at each other's heads out of jealousy. Later there's a big and wild Keystone Cops style finale.
Review - This three-reel comedy was screened missing the opening titles (and possibly a little part of the beginning of the film?). A rather crude silent from the teen era that seemed to highlight around that strange scene of the child who can't keep out of Billie Ritchie's lap. There's lots of slapstick in this, but the action definitely lost my attention during the final part with the Cops and everyone running around - oh well. Rating - * 6/10 stars *


--------------------------
Movie Screenings Friday August 30, 2013
--------------------------

Dr. Jack (1922) - Plot Summary - The Sick-Little-Well-Girl (Mildred Davis) lives in a mansion but can't be a "normal" girl 'cause a quack (his fee sounds like the German war debt) has been hired by her overprotective (and clueless) father to regulate her life. No sun, always in bed in her shawl, no fun! Over in the rural small town of "Magnolia Meadows" lives Dr. Jack (Harold Lloyd), a resourceful young doctor who uses psychology and companionship over medicine and pill-popping to treat his patients. One day the Sick-Little-Well-Girl (along with her doctor, dad, and family lawyer) comes through town where they stop for lunch at the local cafe, ending up sharing a table with Dr. Jack - instant attraction! The lawyer thinks the girl is not getting good treatment and privately recruits Dr. Jack to come to the mansion as doctor and use his own methods to cure her. After arrival (followed by some flirting), Dr. Jack determines that what this young lady really needs is "excitement" - so - he disguises himself as a snaggletoothed, knife-wielding maniac and runs all over the house scaring everyone. It WAS just was she needed!
Review - Harold Lloyd comedy that, though not one of his best, is still quite entertaining and pleasant to watch. I have seen this particular film at least twenty (maybe even thirty) times before, partly because it was one of the first silent films I owned a copy of on video tape, way back in the late 70s. Very hard to find any silents shown in those days, but they happened to show a few Harold Lloyd films on PBS just as I was becoming interested in silent movies. I taped it on our trusty old Betamax recorder (which was quite newfangled then) and watched it pretty often. This was my first viewing of this film on a big screen. This film includes small roles by two Our Gangers from the silent days, Jackie Condon and Mickey Daniels. Daniels plays one of Dr. Jack's patients, a boy trying to pretend he's sick to get out of going to school (how often does an Our Gang kid attempt that old trick?!). Rating - * 8.5/10 stars *


A Tough Winter (1930) - Plot Summary - It's a snowy winter day and, while the gang cavorts in the snow, Stepin Fetchit and Farina arrive on a wagon with Fetchit all laden up with heating pad strapped to his chest, mulitiple layers of gloves, and a hot water bottle under his cap to keep warm. Inside, he receives a love letter and asks Farina to read it to him (Fetchit went to night school, so can't read in the day), but makes the boy plug his ears so he can't hear it. Meanwhile, Mary Ann (and a couple of extra girls as helpers) is busy making taffy while relying on little brother Wheezer to tell her the ingredients, which he gets by listening to a radio cooking program. Unfortunately, each time Wheezer is in the kitchen to shout out the next ingredient, the recipe being featured on the program has changed - so stuff like rice, chili peppers, and Lux soap all ends up in the taffy. The taffy bubbles up slapstick comedy style into this huge, throbbing round glob. The gang shows up to help "pull" the taffy and, of course, it (and Stephin Fetchit's gloves) ends up all over the walls of the house (wonder what mom thought when she got home? No doubt she thought twice the next time about leaving those kids home alone).
Review - This Our Gang comedy short is an early talkie that is rather crude and suffers from being trapped mostly indoors instead of the usual sunny on-location Los Angeles area outdoor scenes (Palms neighborhood is the norm for Our Gang shorts) so often featured in these. The film focuses too much on the Stepin Fetchit character (a black character that is such a racial stereotype it's pretty cringe-inducing looked at today) and not enough on the kids. In fact, only a few regular gang members (Farina, Mary Ann Jackson, and a little bit of Wheezer) are given anything to do - Jackie Cooper and Chubby are, oddly, practically extras in this and pretty much pushed into the background. The taffy pull scene and mess-up of the house is pretty typical Our Gang mischief-making. After the screening, reel one of the French language version of the same short was shown which featured Stepin Fetchit and the kids speaking French phonetically. Though Farina seemed able to handle it, Mary Ann Jackson had most of her dialogue taken away for the French version (except a "Oui" here and there) and instead the lines were spoken by a young girl (Beverly Parrish) who is one of the extra girls in the English-version of the short (I would guess the filmmakers determined Mary Ann was not doing a good enough job at it). This was screened with a very dark, murky print (the French language reel looked better) which sure didn't help. I am a big fan of Our Gang and know these films quite well - though glad to see this along with the rare version done in French, this one is definitely one of the worst from the Our Gang series produced at Hal Roach Studios (yeah, some of those later MGM ones aren't real great). Rating - * 5.5/10 stars *


Old Ironsides (1926) - Plot Summary - It's the end of the 1700s, and the government is just about to launch the ship "The Constitution" to wage battle against evil pirates. A handsome and naive young dreamer (Charles Farrell) wants to join the crew of The Constitution but ends up shanghaied by Wallace Beery (who also shanghais his own cohort who he paid 5 shillings to help get our young greenhorn) and they've all set sail onboard the merchant ship "Esther". Passenger on the ship, a blonde beauty named Esther (Esther Ralston), catches the eye of our youthful sailor who climbs up to the poop-deck (where he's not allowed) to try and talk to her. He's soon shown the ropes and is nicknamed "The Commodore", quickly on his way to becoming a first-class sailor as he swabs the decks, climbs the mast, and even helps peel potatoes below in the kitchen. Esther spends her time standing around gawking at him as he works - she just can't seem to take her eyes off the hunky lad (that makes two of us). One breezy evening as he's taken over the ship's wheel, she joins him while wearing a rather revealing, slinky nightgown and they admire each other back and forth until finally a passionate kiss (followed by a flood of water on the deck as he loses control of the wheel). And trouble soon comes as the ship is attacked by pirates, the crew captured and sold at auction as slaves and poor pretty Esther given as a "gift" to the Sultan because of her beauty. The men are shackled by chains into foursomes and put to work in a stone quarry where our four (The Commodore, Beery and sidekick, and the ship's black cook) make their escape while still in irons and attempt to rescue the girl. Battles at sea to follow in the film's rousing climax.
Review - This silent epic at sea was really, really good - and it sure didn't hurt that it was accompanied by a terrific music score done by Jon Mirsalis, performed on a digital keyboard with sound effects. A rip-roaring adventure tale at sea full of action and romance and - Charles Farrell! Okay, whoa did he look good in this film with his body-hugging t-shirt and ponytail and young, oh so handsome face filling that big screen, oh my goodness. Actress Esther Ralston also looked incredibly beautiful in this, the two together made for one of the more gorgeous couple's seen on the silent screen. The scene where the two exchange amorous looks while he steers the ship, faces shown in close-up back and forth as they flirt with their eyes, was a highlight of the film and had the feel of one of the great screen moments of the silent film era. Wallace Beery and actor George Bancroft work well as almost comical bickering sidekicks, adding a touch of humor throughout. I thought this was the best movie shown at Cinecon 49, I loved it! Rating - * 10/10 stars *


Ramrod (1947) - Plot Summary - Connie (Veronica Lake) loses her man after dad pushes him out of town for being a sheepman in cattle country. Good news though - the guy has given her his ranch, the Circle 66, and she's no wimp so decides to keep the ranch operating herself. She recruits her friend Dave (Joel McCrea) to be in charge and to help round up others willing to work as ranch hands. Unfortunately, the town seems to be run by this Frank Ivey, the ruthless man Connie's father wants her to marry. Ivey wages battle against her to try and keep her ranch from succeeding, even going so far as to have her house burned to the ground. And the feud is on in a dirty battle of bad deeds between team Connie and team Ivey.
Review - Dark period western with a just a bit of a film noir feel to it that, unfortunately, completely lost me about halfway through. I found the plot hard to follow with too many male characters that I couldn't keep straight, their motivations in this unclear. I was pretty darn tired and drowsy during this one, and since I actually had an interest in seeing this (I have had the Blu-ray bookmarked on my wish list on Amazon for awhile) I probably should give it a try again another time. In typical fashion, this film showcases Veronica Lake's gorgeous long blonde hair which she often appears with down (instead of up 1800s style) for no other reason in the plot than simply to show her off. She looked great. The black and white print of this that was screened also looked great and showed off the on-location scenes filmed in Zion National Park, Utah. Can't give this one a rating because I feel like I drowsed through too much of it.


The School Teacher and the Waif (1912) - Plot Summary - Mary Pickford plays the waif, a young lady who lives in a country village with her alcoholic father and is forced to attend the local one-room schoolhouse which holds a classroom full of kids who seem a rather nasty, wild bunch. She does poorly in a spelling bee and the young male teacher places a dunce cap on her head (which she defiantly keeps throwing off). Days go by and Mary starts skipping school, ending up seduced on the road by a young medicine man/charlatan who promises marriage but, in fact, has no such intentions. She is ready to run off with this man, but luckily the school teacher spots her and comes to the rescue! Taking her back to the schoolhouse, he kisses her hair and she realizes he's interested in her as more than just his pupil - and she likes it!
Review - Biograph short directed by D.W. Griffith. An early Mary Pickford film that features a very young, very pretty Mary as the spirited little heroine. The notion of a teacher coming on to a student may seem rather icky nowadays, but in 1912 it was not uncommon (or unexpected) for a younger male teacher at a rural school to marry one of his female students. I saw this as a happy ending for a young lady who may now have a way out of what is indicated to be a difficult home life. Interesting and nicely done film that showcases the talents of Mary Pickford, quickly blossoming into one of the great stars of the silent screen. This was shown with a very nice looking print. Rating - * 8.5/10 stars *


The Pride of the Clan (1917) - Plot Summary - On an island off the coast of Scotland, the MacTavish Clan are a proud lot. A storm is brewing as plucky Marget MacTavish (Mary Pickford) prepares supper for her father, Chieftain of the Clan, as she awaits his return from sea. But a warning signal gives word of a ship accident, and she soon finds out her daddy has been killed. On her own now, Marget becomes new clan Chieftain and takes her Pap's lead by helping whip those clan-folk into church on Sunday. Jamie Campbell (Matt Moore) is Marget's beau, though he's never seemed quite "of" the Clan. Seems his gut feelings were right as it turns out that the woman who raised him as her own isn't his mother, revealed via a letter she has sent out of guilt to a wealthy city woman who is actually his real mom. The woman and her husband, an Earl, visit the island to find her long-lost son and when he finds out the truth he's, oddly, not only not shocked, but actually seems very pleased (What - did fake mom beat him or something?). Real mom wants to take Jamie off the island to get him properly educated and ready for society. Meanwhile, Jamie and Marget spend time dreaming of vacations around the world (visualized on screen, where they encounter eskimo kisses and cannibals) and when he tells her he would love to see her in a dress that isn't homespun, though miffed at him, she goes home and creates a new outfit from her curtains (how often does that happen in filmland?!). They become engaged as they break a six-pence, each taking one half. But his mother and her husband visit Marget and convince her to write a note to Jamie, dumping him for his own good (they don't think naive and provincial Marget can fit into the world that Jamie is about to enter). Marget agrees 'cause she loves Jamie and only wants the best for him, but it breaks her heart and she decides to run away. She unties a sailing vessel from the docks and heads out to sea, but the ship begins to sink leading to the film's climax with Jamie to the rescue. And Jamie's new folks come to realize that the love between him and Marget is stronger than they thought and give their approval to their marriage - yay!
Review - I found this film not quite up to the level of many of Mary Pickford's other films, but it's still Mary so still pretty good! Matt Moore is not exactly an exciting screen presence (at least in this one), he's sort of just "there" - no charisma, in my mind, but he certainly made a lot of movies so I guess people really liked him. The screening of this featured a 16mm print that was very dark and murky looking - this film looked like it would be visually interesting if you could actually see the details clearly, as you could sort of see what looked like some interesting photography and beautiful island shore scenery. I really believe that a clearer print with better contrast would have increased my enjoyment of this movie quite a lot. The concept of this woman keeping a baby that isn't her own, simply out of loneliness, with no consequences or trouble when the truth finally comes out - yeah, a bit strange. Oh well, still a fairly decent film as a whole. Rating - * 7.5/10 stars *


Let's Go Native (1930) - Plot Summary - Joan Wood (Jeanette MacDonald) is a costume designer who is puttin' on a show! She's also in debt, her apartment currently invaded by a clumsy repo man (Eugene Pallette) and his sidekicks, all busy removing all her belongings (right down to her evening gowns) even as she prepares to head off to Buenos Aires where this show is to be produced. One last tune on the piano (with the workers joining in as a quartet as they sing along with Joan) and off to her ship. Cut to taxi cab driver Voltaire McGinnis (Jack Oakie) who, in trouble with the cops when he crashes into police headquarters and runs, is taking it on the lam along with his effeminate passenger, Basil (William Austin). Wally Wendell is Joan's fiance, but he's facing disinheritance by his father who wants him to drop Joan and marry a society girl. Wally Wendell *wants* Joan and decides to run away to Buenos Aires with her but, strapped for fare, he gets a job onboard as a "trimmer" (he's unsure what that is and Joan leads him to think he'll be trimming the garnish for the restaurant dinner plates). Voltaire and now constant sidekick Basil also end up hired as trimmers on the ship, and all three men end up below decks in the coal room. None are happy with the dirty job of shovelling coal - luckily, Wally's grandfather was a schoolmate of "the head of the line", getting him the favor of being removed to a better job. Somehow the other two goofballs get put to work as waiter's in the ship's restaurant where Voltaire taunts a patron who is trying to carve his duck dinner. The ship ends up in a Titanic-like disaster at sea and our whole gang all wind up drifting at sea on a couple of life rafts, finally landing at this isolated tropical island where native girls are running about in costumes, coincidentally, designed by Joan. A single man (Skeets Gallagher) rules over this island of females like a king, with pearl-encrusted crown on his head - he organizes a show with the women turned into chorus girls : a feast for the "eyes, ears, nose, and throat", with music, dancing, food and fruits! Turns out this island is just bursting with pearls and oil, riches just waiting for someone to scoop them up and just as Wally's father arrives at the island and buys it - the unexpected - a giant earthquake, a fast escape by the whole gang as the entire island sinks into the sea and the expected (hmm, and perhaps not expected) couples hook up all bringing this romp to a quick close.
Review - Pre-code musical/comical farce with elements of the screwball about it - fast-paced, quite silly fun featuring a few entertaining musical numbers, plus an assortment of characters that get into plenty of hijinks and goofy antics. Special effects to create the island earthquake were done real well, I thought. Okay, I don't usually like Jack Oakie that much and normally find him pretty darn annoying, but I thought he was okay in this - I actually rather enjoyed this kind of surreal romp of a movie. Actress Kay Francis shows up on shipboard as the heiress Wally Wendell's father wants him to marry - I like her lots, too bad she isn't given all that much to do in this. A sort of dumb running gag in the film has every character who meets Voltaire ask if he's the "French philosopher" (there's also some dippy nonsense at the ship's rail where Oakie and assorted ship passengers keep knocking each other's hats off into the water). All the stuff on the island was fun to watch - and, am I remembering right in thinking Kay Francis and Jack Oakie's characters oddly hit it off and end up hooking up in the end? By the way, this seemed like a really odd film for, of all people Jeanette MacDonald, to star in (she always seems like such a lady). Rating - * 7.5/10 stars *


--------------------------
Movie Screenings Saturday August 31, 2013
--------------------------

The Holy Terror (1937) - Plot Summary - Corky (Jane Withers) is the energetic, friendly daughter of a naval officer and best friend to all the enlisted men as she spends her summer on the base, singing, dancing and cavorting with the sailors (it's all innocent fun). The men give pal Corky a miniature plane that really flies, which crashes into an important meeting getting Corky in trouble (the plane is bigger than you would think for a "mini-plane", it could definitely cause some real damage!). Meanwhile, officers at the base are busy as bees working on some important "mystery plane" and a couple of spies want to buy a nearby diner "The Golden Anchor" 'cause it's got the only vantage point from which to spy into the hangar where the mystery plane is in the works. The diner's owner won't sell, so the spies attempt to ruin the business by starting a brawl between enlisted men so they all get banned from the joint, forcing the place to close for lack of customers. It works and the spies set up a telescope from the crow's nest at the top of the now-closed diner to do their spy stuff. Luckily, Corky and friends find out and on the day of the big reveal/demo of the new plane, spirited (and smart) Corky takes it on her own to save the day!
Review - Cute B-movie starring a cute kid, the storyline very similar to the Shirley Temple movies being made at this same time period right down to spunky Corky tap-dancing with a bunch of sailors in an entertaining musical number featured in the film's opening scene. They seem to screen a Jane Withers film every year at Cinecon these days (which is fine with me) - I found this one similar in quality to the other ones I've seen. Jane Withers appeared in person for this screening and a Q&A/interview after the movie that was a bit too brief. She's about 87 years old now and still as peppy as ever. Rating - * 7.5/10 stars *


The Good Bad Man (1916) - Plot Summary - Douglas Fairbanks stars as a Robin Hood of the Wild West know by the nickname "Passin' Through" - he commits robberies only to give the loot away to fatherless children (seems he grew up fatherless himself, so feels for them). Arriving in the town of Maverick City, he boards with Pap who has a ranch and a pretty young daughter (Bessie Love) who starts flirting with our outlaw right off the bat. Passin' Through carries a letter with him written by his mother that tells him that if he ever meets a man named Bob Evans, speak to him to find out the true story about his father. Well, what do you know - Bob Evans is right there in Maverick City and reveals that Passin' Through had a father married to his mother, but was murdered by a man named Frazer, who later disappeared. Well, oddly enough, Frazer arrives back in town lickety-split and Passin' Through sets out after him. Meanwhile, a romance blossoms between him and the girl.
Review - This silent western was entertaining and had a certain charm to it but, unfortunately, I was pretty drowsy during this so I'm a bit vague in my head on the full details of the plot. Bessie Love looked very fresh, very lovely here and for me pretty much steals the film - a great screen presence, when she was onscreen I found it almost impossible to look at anything else (definitely one of my favorite of the silent stars). Hmm, she almost looked too young to be matched with Fairbanks, though it works okay. Rating - * 8/10 stars *


Transient Lady (1935) - Plot Summary - With plans to set up a roller skating rink in a small Southern town, the beautiful and well-dressed Dale (Frances Drake) arrives with her business partners to meet with a couple of lawyers and get the ball rolling. Father and son team, Marshall & Marshall, are the attorneys who approve this venture and son Carey Marshall (Gene Raymond) hits it off with Dale. Dale gets boarding with a pair of spinster sisters (that are just like the Baldwin ladies from "The Waltons") who seem rather protective over her, and with pretty good reason as I guess they know their town. A gang of troublemakers gawk at Dale (they've never seen a woman like her before) on her arrival in a way that would make your skin crawl, and when the rink has it's big opening these guys plan to "get tanked up" and crash it. Opening night at the new roller rink sure does bring in the hicks - it also brings in these thugs, who proceed to wreak havoc and rough up the patrons as they skate. That night, one of these thugs ends up getting murdered and the wrong man, Dale's business partner Chris (a sort of beau), gets accused of the crime. He is soon to go on trial and Dale convinces her new interest, Carey Marshall, to defend Chris. A love quadrangle, imbecile brothers of the dead man, a corrupt and power-hungry town leader (also a brother) and an angry lynch mob are all part of the action to come.
Review - Interesting film with a little bit of romance and a LOT of dark overtones to it. Starts out as a roller skating picture (with Frances Drake as Dale giving lessons in sexy skating attire, and the creep that ends up murdered taking a peek at her in her dressing room and then coming onto her) and turns into a crime drama. Quite decent film. Rating - * 7.5 to 8/10 stars *


Mare Nostrum (1926) - Plot Summary - As a young boy, Ulysses is devoted to his uncle, The Triton, and follows his every word as The Triton teaches him the meaning of a favorite painting on the wall which features the image of a beautiful creature, Amphitrite, "Goddess of the Sea". The father of Ulysses wants his boy to become a lawyer, but uncle wants him to be a "man" and go to sea. Ulysses (Antonio Moreno) grows up handsome and he DOES go to sea - now living in Barcelona with wife and son, he's Captain of his sailing vessel, the "Mare Nostrum". WWI breaks out and Ulysses goes on holiday to Pompeii where, while touring the ruins, ends up in a chance meeting with an old battleaxe (an authority on ancient ruins) and her companion Freya (Alice Terry), a sultry and statuesque blonde who is the spitting image of the face of Amphitrite in the painting (which Ulysses has been in love with since boyhood). Smitten, he follows after them on their tours all the way to Naples. They fall in love but turns out she's a German spy and she uses his devotion to her to convince him to work with them, using the Mare Nostrum to steal fuel to run a German U-boat. Meanwhile, his son back home sets out to "find his father" (yeah, the man has been on a rendezvous with his new "girlfriend" for quite awhile) and on his venture the boy ends up on The Californian, a passenger ship targeted by that same German U-boat. The ship is torpedoed, the boy is killed, and when Ulysses receives word on the death of his child his world comes crashing down around him. He drops Freya 'cause of her involvement in getting him to help the Germans, and she becomes a traitor who ends up facing a firing squad.
Review - Highly entertaining melodrama, directed by Rex Ingram, that visually popped on the big screen - a wow. This featured a tinted print that looked really good, photographed on-location with interesting imagery throughout. Intriguing, melodramatic plotline with romance plus uber dramatic, emotional climax helps make this film a winner. The chemistry between actors Antonio Moreno and Alice Terry didn't quite have the "oomph" I would hope for, but was good enough (this film would have been even greater with, say, Valentino !! in the Moreno role). The firing squad scene is memorable, Alice Terry giving a fine performance as she bravely faces her death; the ending of this film is visually haunting and unforgettable. Rating - * 9 to 9.5/10 stars *


Suddenly It's Spring (1947) - Plot Summary - It's 1945 and married couple/law firm partners, Mary and Peter Morley (Paulette Goddard and Fred MacMurray), have had a divorce in the works since the start of WWII. After four years overseas in the WACs, Mary returns to town where Peter's current girlfriend Gloria (Arleen Whelan) - a, um, bitch - has been pushing at him to get the divorce agreement signed lickety-split by Mary. Mary arrives at her old apartment where she meets her husband's rich client/chum Jack (Macdonald Carey), who has the habit of staying with Peter whenever he's in town (Jack doesn't even know Peter is married and initially hits on gorgeous Mary). Meanwhile, Peter has made plans with her to meet that evening at a nightclub where he hopes to get that agreement signed. Mary arranges with Jack to show up at the nightclub with girlfriend Gloria as his date, so she can see what Gloria is like - and Gloria can see her. He does it, and the four all end up at the same table where the two ladies get into a cat fight as they exchange mean barbs. Mary has second thoughts on the divorce and attempts to seduce her husband by putting on a sexy negligee. But Peter is still getting demands by Gloria to get that signature and, after more failures to get it, he finally decides to make himself so repulsive and undesirable that Mary will decide on her own to dump him. His act-up as the most loud, obnoxious, never-shuts-up jerk ever is a fail as she tells him she wants him more than ever! Just when she finally decides to give him his freedom, they remininsce over trinkets they've saved in the apartment closet, and decide to stay married after all.
Review - This romantic comedy is an entertaining romp with a B-movie feel to it, boosted up by nicely done performances by two quite likeable stars Fred MacMurray and Paulette Goddard (and helped along by co-stars Carey and Whelan). Of course, the happy ending (at least for Peter and Mary) can been seen in the works from the get-go when you realize the "girlfriend" this guy has gotten himself mixed up with is just so bitchy and demanding. Actor Fred MacMurray will always be, in my mind, the dad from "My Three Sons" (which, as a kid of the 60s who watched a whole lot of sitcoms, I knew him as years before I had ever seen one of his old movies) so I can never quite see him as a sort of romantic figure - but I always enjoy him and think his match up with Paulette Goddard works well. Wish Macdonald Carey was given more to do than just sidekick carrying a lust for Goddard. Amusing confrontation scene where the two ladies diss each other in the nightclub was probably the best scene in the movie. Rating - * 8/10 stars *


Hold 'Em Yale (1928) - Review - Twenties college comedy starring Rod La Rocque that didn't start out very promising. I have liked this actor in other films I have seen him in, but he seemed to have lost his charm here (at least in the part of the film I saw, mainly just the beginning). I was very tired and, unfortunately, fell asleep during this one - darn it (yes, I still wish I had seen this, even if it didn't start out that great). The few times I managed to open my eyes it seemed like there was always a football game onscreen.


--------------------------
Movie Screenings Sunday September 1, 2013
--------------------------

Eve's Leaves (1926) - Plot Summary - Silent romantic comedy starring Leatrice Joy as Eve, forever a Tomboy in cropped haircut, shirt, trousers, and sensible shoes (okay, she does sport lipstick to create those tiny silent movie lips). Eve has grown up on shipboard where her dad, the Captain, has kept her in men's clothes and away from learning anything about life - or love. Eve is curious and asks "Cookie", ship's cook, for advice on love which seems to be something he studies via romance novels and his trusty book "Love's Alamanac". The book promotes a "Vibrations Love Test" and Eve wants to try it out. It tells her to stand behind a man to watch for signs of love including racing pulse, heart flutters, and loss of breath. Eve stands behind a sailor but feels nothing. More advice from the book - seven "must haves" for a future husband including that he 1. Is single. 2. Is healthy. and onto 7. Has no insanity in the family. Sailing into port in China, Eve heads into the Green Dragon (authentic Chinese chop suey joint via Chicago) where she spots handsome Bill (William Boyd), currently on a tour around the world with his well-to-do father. Eve tries out the Vibrations test on Bill and she sure does feel something! She approaches Bill, he thinks she's a boy and seems a bit annoyed when she starts to grill him on her "list" from the book (Are you single?, Any insanity in the family?, etc.). But just now some trouble comes in the form of a gang of Chinese bandits who are busy pillaging and kidnapping innocent targets, like young ladies and a minister promoted as good at telling stories. They must all return to the ship, but the crew is short-handed - what to do? Eve decides to shanghai Bill 'cause she "likes" him, and tricks him using a "lover's knot" to help rope him up. Meanwhile Eve needs more advice from Cookie when she realizes that although she feels the "Vibrations", Bill does not. Cookie tells her it must be because she has no sex appeal. Using a couple of photos of a woman in sexy attire (more stuff from that trusty volume "Love's Alamanac"), she uses her silk curtains to fashion a slinky and sexy ensemble for herself (should have removed those sensible shoes though!). She now attempts to seduce Bill with her new look and struts around him below deck, where he is currently being held roped up against a pole. He's hungry so they make a bargain - a bite of apple in exchange for a kiss. He takes the deal and after a whole LOT of apples, he seems a bit more interested! Just as things are looking up for Eve, the bandits take over the ship, loot it, and kidnap poor Bill. Eve ends up found inside a stolen trunk and the bandits dress her up in Chinese attire suitable for a future bride - of their leader, Chang Fang! Bill needs saving too as they've got his neck rigged into some sort of spiked torture gear. A big battle against the bandits is the climax of the film.
Review - A charming and fun silent film, boosted up by Leatrice Joy, who gives a memorable performance in this female in male drag/tomboy role (similar to her next film, "The Clinging Vine", also quite a good movie). Actor William Boyd (lookalike/doppelganger of current day actor Leonardo DiCaprio - quite a resemblance as I've noticed in other films I've seen Boyd in) is appealing in his role, the chemistry between them just "okay". My only problem with this film is that I would have preferred less action with the bandits (especially in the later part of the movie) and more love! Rating - * 8.5/10 stars *


Sutter's Gold (1936) - Plot Summary - Edward Arnold stars as Sutter, a man forced to leave his family in Switzerland in the 1830s after being accused of a murder he didn't commit. He heads for the states where he ends up partnering with new sidekick Pete (Lee Tracy) who spends the rest of the film tagging along after him. With ideas to head to California to get land, they set out on a ship that ends up detouring to the Sandwich Islands where the evil ship's Captain picks up a whole bunch of natives and holds them in chains below decks. Short of supplies, he refuses to give water to his crew and this leads to a mutiny led by Sutter. Soon after, Sutter is busy settling in California where he has acquired land and started a new community, hiring on all the rescued natives as workers. Several years of struggles ahead all leading to a major discovery as gold is found on his land! Though it's Sutter's land, men go wild to take the gold, leaving Sutter to struggle the rest of his days for the rights to his land and his gold. And meanwhile, during all this Sutter has formed a friendship with Elizabeth (Binnie Barnes), a Countess visiting California. Unfortunately for him, this woman never really cared for him and drops him like a hot potato as soon as she finds out he's a big failure. There's some stuff about his original family (his still devoted wife and two now grown-up kids) turning up in California suddenly (hmm, did he outright forget them while he was attempting to seduce the "other woman").
Review - Fairly interesting historical biopic about the discovery of gold that led to the California Gold Rush. Though the plot is a bit rambling, I thought the film worked okay mainly because Edward Arnold gives a strong performance as the lead character. The character's bond with his constant sidekick Pete turns out to be the strongest relationship this guys makes in his life - while Pete sticks it out with his pal right to the bitter end, that awful woman gives him the boot as soon as his chips are down. I really could have done without the character of Elizabeth in this at all, she's very unlikable even as he first meets and becomes interested in her. And I think she was married (okay, so was Sutter) - silly, unnecessary insert of a love interest in the story is a fail. The Pete character is supposed to be sort of comical relief (I think) as there's a running gag about him wanting to stay put at the latest geographical spot these two guys have ended up, only to have him change his mind and continue chasing after Sutter. Rating - * 7.5 to 8/10 stars *


Oh Mary, Be Careful (1921) - Plot Summary - Pretty coquette Mary Meacham (Madge Kennedy) loves to flirt. She flirts, and flirts, and flirts some more - every chance she gets! Flirting with anybody is better than nobody, so she evens flirts with the mail carrier (and he's onto her 'cause he delivers her love letters). She uses her "baby eyes" to pretty much seduce anything in pants. Hoping to tame her of her wanton ways, Mary's parents send her to a finishing school (where Mary puts the glee into the "Glee Club") - a nearby men's college is quickly found and the flirting continues. Pulled out of the school, she's shipped off to live with her Aunt Myra at her country estate (and dad has told Auntie to treat Mary "rough" if she won't obey). Aunt Myra is a stern old spinster with a hatred for men. She has put together a set of scrapbooks with clippings on men and their failings, then advises Mary to "read 'em and weep" while Auntie goes off on a weekend trip. Left alone in the house with no male in sight, Mary is bored and does decide to take a look at the scrapbooks. Mary finds Myra's list of theories with simple tests you can give to men that will confirm their failings. 1. All men are mercenary. Pretend you're rich, then say you're poor. See what he does. 2. The way to a man's heart is his stomach. Deprive him of something he wants - or make him eat something he doesn't. Watch him fail. 3. Test his heart by reading poetry, at the same time show some silk stocking. Then catch him by surprise - and see where his attention is! Mary contacts several of her gal pals and invites them to come over and bring their single brothers with them. Meanwhile, a young and handsome tree surgeon arrives by surprise - hired by Aunt Myra to tend the Oaks. She flirts with him out by the trees and they toss apple peels to get the first initial of the "one you will marry". Mary throws an "S" and our man reveals his name "Sam Stone"! Her friends arrive with their brothers and she sets out to use Auntie's tests on them, sparking jealousy in the heart of Sam Stone as he's now badly bitten by the love bug. Meanwhile, Mary begins to fall for him but he's onto her constant flirtations and isn't so sure he wants someone who loves everyone!
Review - Cute silent romantic comedy with a simple, easy to watch story. Madge Kennedy isn't given a whole lot to do in this acting-wise - though she's in nearly every scene, there's not lots of emoting or anything, she seems to just be there to look pretty. The idea of these tests on men was pretty amusing. (Note: I thought the Madge Kennedy film screened last year at Cinecon 48, "Dollars and Sense", was quite a bit better than this one). Rating - * 7.5 to 8/10 stars *


April Love (1957) - Plot Summary - coming

Review - Rating - * 8/10 stars *


--------------------------
Movie Screenings Monday September 2, 2013
--------------------------

Castles for Two (1917) - Plot Summary - Lord O'Neil (Elliott Dexter) takes over some property in Ireland and, much to the distress of his three spinster sisters and mother, sets out visiting the tenants on his land. His intentions are good but, collecting rent, he starts to get a bad reputation. New arrival in town is Patricia Calhoun (Marie Doro), an heiress known by the town as the "rich American". Occupying a nearby castle, she has her secretary pretend she's the "rich American", so she can let loose, throw off her fancy duds and romp free amongst the Irish forest fairies (which only she can see, apparently). Strapped for cash, spinsters and mama want Lord O'Neil to marry "the rich American" to save the estates but he is under the impression she is the middle-aged old maid secretary and declares not only that she's "too old" but that he "hates her". Lord and American accidently meet in the forest one day and he gets the notion she works as a maid for the rich American lady. Patricia encourages his mistake and even disguises herself in a maid's uniform and proceeds to feather dust the bookcases when he turns up for a meeting (to satisfy his pushy family) with the lady of the castle. I suppose her motivation being to keep away fortune hunters, Patricia continues the charade by inviting Lord and family to a dinner hosted by her secretary, while she continues playing the sweet little maid and even serves supper for her new guy in the "below-stairs" kitchen. He asks her to marry him and she heads right on upstairs coming back down in gown and jewelled crown, revealing the truth to all! The ending features the happy couple surrounded by the romping forest fairies.
Review - Interesting teen-era silent romantic comedy/melodrama with a little over-the-top eyebrow movement and other weird facial expressions from stage actress Marie Doro. The film itself features an outdoor setting and well done special effects photography to place the little dancing fairies (played by costumed children) into several scenes of the movie. There was quite a bit of decompostition in the beginning scenes of the movie (and a bit near the end), but it wasn't enough to ruin the viewing of this rather pleasant little film. Enjoyable. Rating - * 8/10 stars *


The Return of Sherlock Holmes (1929) - Plot Summary - Brilliant detective Sherlock Holmes is brought out of his intended retirement to help solve the case involving a gang who are stealing people's money by tapping into the wireless system. A man is murdered just as Holmes arrives to attend the wedding of the murdered man's son and he's quickly onto the perpetrators simply by finding clues on the spot at the scene of the crime. Not only does he surmise poison was used based on a mark on the victim's thumb, he figures out via a circle on the calendar for today's date plus some sort of ship's token that the murderer was a member of the crew of a ship that is leaving port that evening! Holmes and trusty sidekick Dr. Watson board as passengers on the ship and set out to solve this crime. Holmes uses clever deductive reasoning along with an aptitude for disguise to find the proof that the man he suspects is, in fact, the murderer - and meanwhile, the victim's son is all drugged up in a ship's cabin, kidnapped and held captive by the bad men! Soon a run-in with his arch enemy Moriarty, coincidentally leader (known as "The Old Man") of the wire tapping ring. Yes sir, the two crimes both connect together and Holmes has what could be his last supper with Moriarty in his state room, where they dine on caviar and pheasant and Moriarty attempts to murder Holmes via a poison dart hidden in a cigarette case. And Holmes proclaims this his "last case".
Review - This early talkie has the feel of a stage play, which is actually okay for me. I thought actor Clive Brook made an excellent Sherlock Holmes and found the mystery plot of this interesting with all the fun elements of critical thinking and clever sleuthing I expect when Sherlock Holmes is on the case. The young couple, the son and his drippy fiancee (who apparently was meant to be Watson's daughter, a fact that escaped me while viewing this), are sort of annoying as they speak pre-marriage baby talk to each other in a scene near the beginning. I hate when filmmakers insert young couples into a film unnecessary to the plot with, perhaps, the idea of drawing in a bigger audience (especially when that young couple also sing - thank goodness, that doesn't happen in this). Pretty darn good - glad to have seen this one. Rating - * 8.5/10 stars *


Spring Parade (1940) - Plot Summary - Musical starring Deanna Durbin as Ilonka, a spunky, fresh-faced peasant girl from a small village in Hungary. While attempting to sell her goat at a local fair, her attention is drawn to a man selling fortunes for six pennies, hand-selected by a raven. Her fortune tells her she will meet her future husband in Vienna, he will be an artist, and true love will hit her with a stick. After dancing a fast-paced folk dance with a man she has bargained with for the sale of the goat, she ends up falling asleep on a baker's hay wagon, waking up to find herself most of the way to Vienna! Because of her fortune, instead of returning home she decides to make her first visit to Vienna and is invited to stay with the baker (S.Z. Sakall), a friendly old man (so no worries here over staying overnight with a stranger, apparently). The baker runs a happy bakery, assisted by his young twin nephews (Butch and Buddy) who are learning to bake and pretty salesgirl Jenny. Ilonka starts learning the ropes by helping at the bakery counter, and Jenny lets her borrow some of her dresses so Ilonka doesn't look like a bumpkin when she goes out on the streets of sophisticated Vienna (she sheds about fifty petticoats under her Heidi dress!). Jenny stands at her window each day to flirt with the soldiers passing below in a daily parade. A soldier named Harry (Robert Cummings) has noticed Jenny and sends a note to her to meet him at a Vienna wine garden that evening - unfortunately, he trusts the two nephews to deliver the note and they give it to Ilonka. Ilonka goes to meet the guy fully expecting to give him the brush off 'cause he's not an "artist" (she gullibly believes wholeheartedly in the truth of her fortune). She soon finds out he IS an artist when he reveals he is a composer - now she wants him! He composes a fantastic piece on the spot, performed by the orchestra with vocals by Ilonka! Now, for some reason, those naughty nephews/brats tell lies about Ilonka to Harry as he doles out bribes to them for more information about her. They tell him that she is not the innocent country girl he thinks, but grew up in Vienna and has dated lots of men. This causes some short-lived trouble between Ilonka and her soldier, all leading to the inevitable happy ending.
Review - Rather a charming film with some really nice musical numbers, the screening of this featured a very superior quality print that really looked great. Deanna Durbin looked about as fresh-faced (her skin was practically glistening with that youthful glow) and pretty as I've seen her - her eyes twinkling, her vocals terrific. The romantic pairing of her with Robert Cummings didn't quite work for me, he just doesn't seem like a match for her (he's kind of a comical/goofy personality and Deanna seems more sweet and serious). Something I wondered about in this story - how come Ilonka can just start a new life in Vienna without any worry over her family, notifying her parents and such - or is she simply a happy young orphan with no connections whatsoever? I guess we'll never know. I am a fan of Deanna Durbin, this was the first time I have seen this film and I found it to be one of her better ones (it sure didn't hurt seeing this with such a sparkling print). Very entertaining. Rating - * 8.5/10 stars *


China (1943) - Plot Summary - coming

Review - Rating - * 8/10 stars *


Fifty Roads to Town (1937) - Plot Summary - Screwball comedy involving your typical madcap runaway heiress, headstrong Millicent (Ann Southern), on her way to an elopement in fur coat, high heels, and negligee. Also on the run, handsome (and single) Peter (Don Ameche), trying to avoid being served a bench warrant. They both get chased by the same motorcycle cop for speeding and end up at this mountain lodge where they cross paths - he thinks she's the process server, she thinks he's been hired by her daddy to stop the marriage. Both run off, only to end up together at an isolated cabin in the nearby woods. With the cop and others on the chase, the two are forced to use the cabin as a hideout, with nothing in the cupboard to eat but a bunch of caviar, soda crackers, and jars of rattlesnake meat (luckily Peter had the foresight to stock his suitcase with some bottles of booze before he took it on the lam). One bedroom, one unmarried couple who don't "like like" each other (yet), she ends up in the room for the night with his gun (he has, for some reason, given her the impression he's a gangster in hiding). A third wheel ends up joining them, a trapper (Slim Summerville) with a recent catch, a rabbit, that ends up still being alive. The men want bunny as their next meal, but Millicent takes on the critter as a pet (yay for that!). A real life wanted gangster named Dutch, a huge snowstorm, and Millicent in the only dress she brought, a low-cut evening dress, rounds out the fun, plus a big finale with the cops shootin' up the joint under the impression that Dutch the Gangster is hiding in the cabin. Though the bullets are flying, nothing seems to touch our now lovestruck couple who soon become engaged - to each other!
Review - Hey, not completely sure why this was titled "Fifty Roads to Town" but it's a fun watch, very typical of screwball comedies made at this time period (I could definitely visualize Katherine Hepburn and Cary Grant in these same roles). There is some chemistry between Don Ameche and Ann Southern, the on-screen romance here works. Rating - * 8.5/10 stars *


Hi Good Lookin'! (1944) - Plot Summary - Kelly Clark (Harriet Hilliard) arrives in Hollywood eager to start a career singing on the radio. Unfortunately, she has been misled by "Dynamo" Carson (Eddie Quillan), a friend from back home who told her he's a big shot executive at the radio station when, in fact, he's a station tour guide who sleeps in his car! He's also pushy, loud, and obnoxious, so takes himself on as her "manager". First job he gets her is waitress at a nearby diner, a job which comes with sleeping quarters in an upstairs dormitory (most of the other gals working there seem to also have their "career" in this guy's hands). Kelly meets King Castle, a successful radio singer, and they start dating. Dynamo gets Kelly a gig on a late late night radio show, tricking the host into letting unknown singer Kelly on the air by telling him that King Castle will sing with her. Castle won't let his name be used on air to avoid getting in trouble with his network, so they perform on air (along with Dynamo on guitar, for some reason) as trio "Kelly and Her Boyfriends". They become the new sensation in town, Castle known simply as the "mystery singer". A newspaper columnist suspects King Castle as the mystery singer and arrives at a broadcast taping to investigate - but the bunch are onto him and disguise Dynamo and Castle in fake ZZ-Top style beards. Trouble for stand-by-her-man Kelly when the sponsors want to hire her as a replacement for boyfriend King Castle's now floundering (ever since he started those late night broadcast sessions) radio show.
Review - Decent B-musical boosted up by some entertaining musical numbers. Featuring Ozzie Nelson and His Orchestra, Jack Teagarden and Orchestra, and a fab tap dancing specialty trio "Tip, Tap, and Toe" - nice! Though Ozzie and Harriet Nelson had been married since 1935, they actually have no interaction in this film at all. Okay, I want one of those tableside individual 40s jukeboxes (wallbox) featured in the diner in this film. Rating - * 7/10 stars *


---



Cinecon 49 The Good, The Bad, and The Ugly Summary


*********

The Good

- There were several especially good silents screened this year, best of the bunch being "Old Ironsides" accompanied by some fab music done by Jon Mirsalis - really great. Also super - "The Last Man on Earth (1924)", sci-fi silent film which gives us a glimpse of the future world of 1950! And I also really liked "Mare Nostrum".



Also Good

- John Bengtson's then and now slide show of Hollywood silent movie street scenes. Loved it!



And also Good

- Carmen Miranda on the big screen! How I love her.



The Not So Good

- Too many mediocre comedy two-reelers that lost my interest almost every time (with the exception of the Charley Chase short, "Fluttering Hearts", which I did enjoy). The only thing that caught my attention in these was some interesting L.A. street scenes in the background.



The Bad

- The weather. Hot, humid, and horrible!!!! The close to 100 degree weather kept leaving me completely drained of energy, especially the first three days. Difficult to sleep at night too, even with the air conditioner running and a fan blowing on me (so hard to get the second floor of my house to cool down on days like this).



The Ugly

- Hollywood Blvd. I am starting to compare these couple of blocks around Hollywood and Highland recently as, basically, the pit of Hell. Too bad, because a couple of favorite restaurants are in this area (Musso and Frank's and Miceli's) so I do get over there sometimes. Hawkers shouting "Everything $5, check it out, check it out, check it out!", and tour operators pushing all along the sidewalk "Wanna take a tour?". Gets very annoying. Ugh, just shut up.

*********

---


Screening of

The Holy Terror (1937)

starring Jane Withers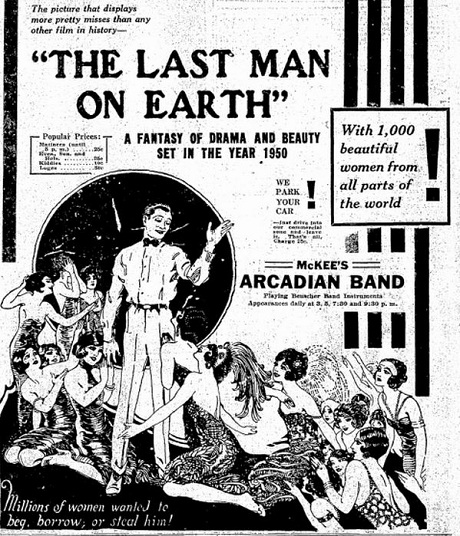 Screening of

The Last Man on Earth (1924)

silent fantasy/sci-fi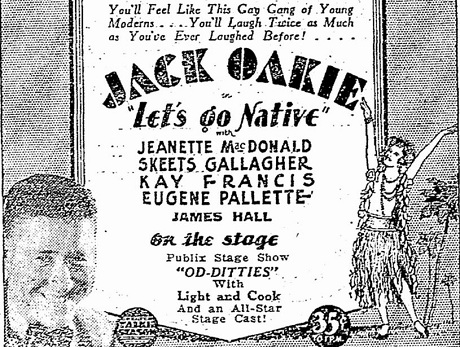 Screening of

Let's Go Native (1930)

starring Jack Oakie and Jeanette MacDonald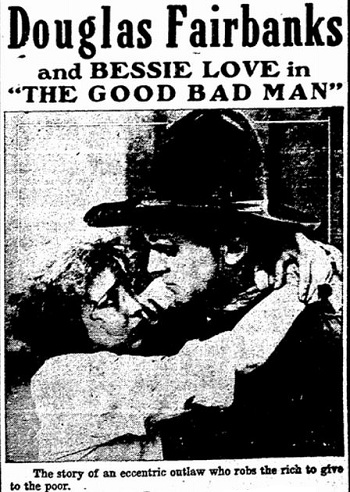 and also showing

The Good Bad Man (1916)

silent western starring Douglas Fairbanks and Bessie Love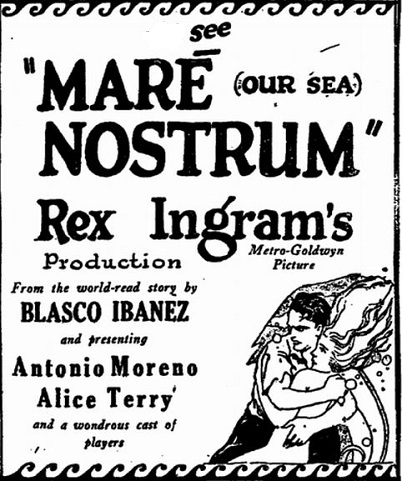 Screening of

Mare Nostrum (1926)

directed by Rex Ingram, starring Alice Terry and Antonio Moreno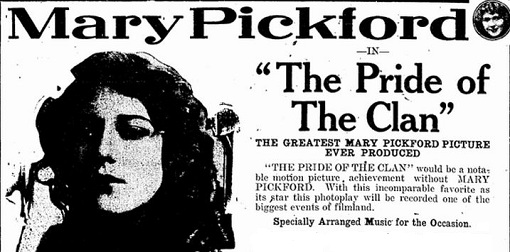 Screening of

The Pride of the Clan (1917)

starring Mary Pickford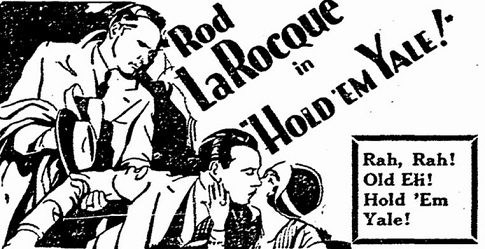 Also showing

Hold 'Em Yale (1928)

starring Rod La Rocque

RATINGS KEY:



10 = Absolutely Fabulous/Superb
9 = Really Good/Excellent
8 = Good
7 = Fairly Good/Decent
6 = So-so, some flaws
5 = Mediocre
4 = Not that good, many flaws
3 = Poor
2 = Very Poor/Stinker
1 = One of the worst BOMBS ever filmed



---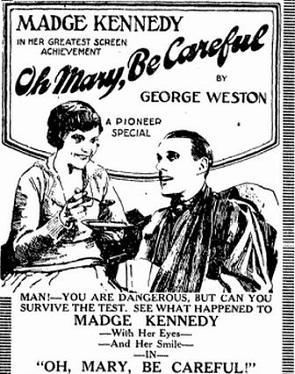 Screening of

Oh Mary, Be Careful (1921)

starring Madge Kennedy

---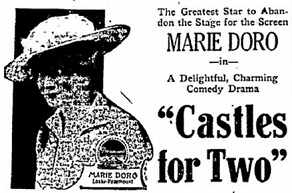 Also showing

Castles for Two (1917)

starring Marie Doro and Elliott Dexter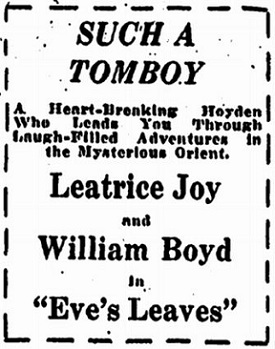 and a screening of

Eve's Leaves (1926)

starring Leatrice Joy and William Boyd

---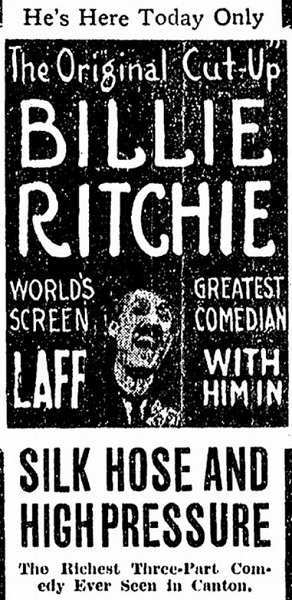 Also showing

Silk Hose and High Pressure (1915)

comedy starring Billie Ritchie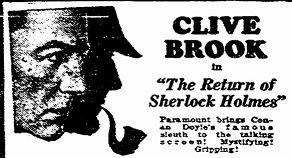 Also showing

The Return of Sherlock Holmes (1929)

early talkie mystery starring Clive Brook

---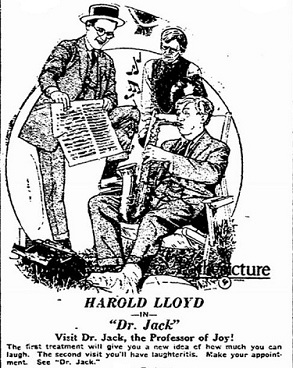 Screening of

Dr. Jack (1922)

, Harold Lloyd comedy




and a Screening of

The School Teacher and the Waif (1912)

, D.W. Griffith Biograph starring Mary Pickford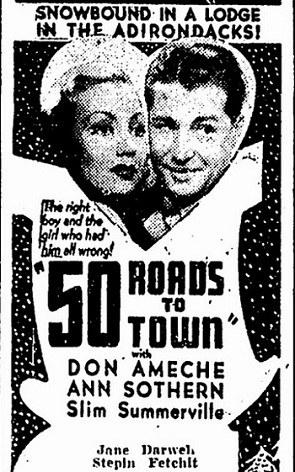 also showing

50 Roads to Town (1937)

starring Ann Sothern and Don Ameche

---

and there's also a Screening of

Puddin' Head (1941)

starring Judy Canova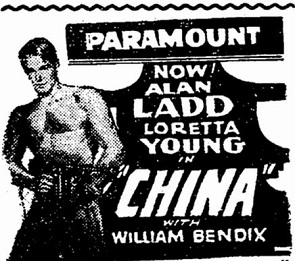 Screening of

China (1943)

starring Alan Ladd and Loretta Young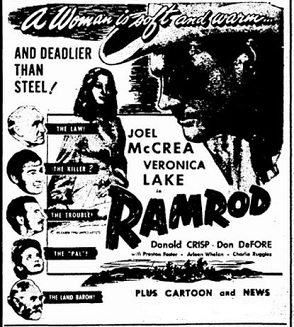 and also showing

Ramrod (1947)

starring Joel McCrea and Veronica Lake